Did you know carrying flowers down the aisle has its roots in ancient times? In Ancient Rome, brides carried or wore floral garlands to signify new beginnings, fidelity and fertility. In the Middle Ages, fragrant herbs and spices were thought to ward off evil spirits, bad luck and ill health. They also helped mask the smell of body odour!
It was during the Victorian era that flowers became part of the wedding bouquet. At this time, lovers often sent different blooms as a way of expressing their feelings. Each flower had a different meaning, and their exchange quickly became popular and linked to romantic love.
Flowers were soon incorporated into wedding ceremonies too. Brides carefully chose flowers for the sentiments they represented, and the blooms she carried became 'her flowers' for the rest of her life. Queen Victoria herself popularised the trend. When marrying Prince Albert, she carried a tussie-mussie, a tiny round clutch of flowers in a filigree holder filled with moss and orange blossom.
Nowadays, flowers are usually selected for the beauty of their colour, fragrance and shape. Beyond this, I believe there are five key things to consider. Here's how to choose your wedding bouquet…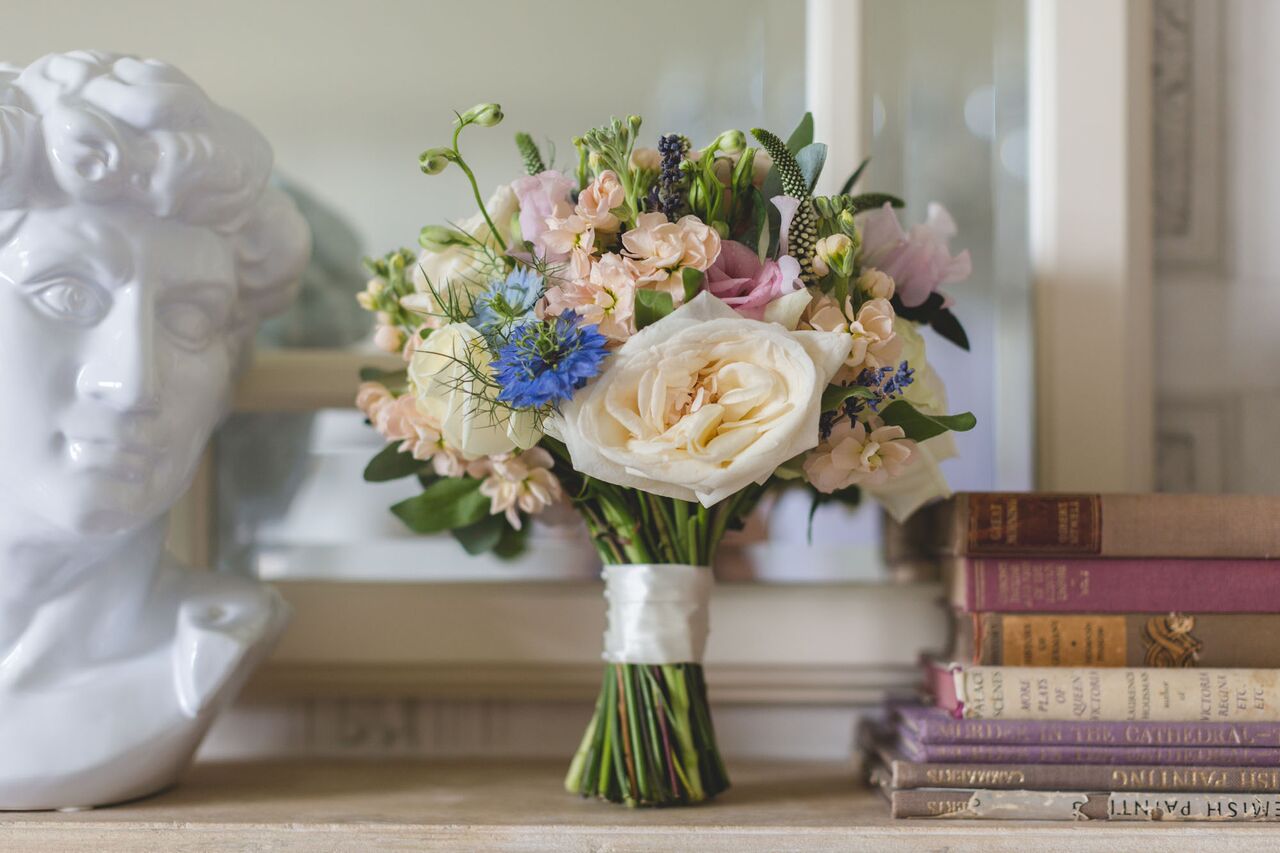 Your Outfit
Like clothes, wedding bouquets come in a range of shapes, styles and sizes. Whatever you're wearing, you want your bouquet to complement and enhance the overall design.
For example, if the bodice of your wedding dress is incredibly detailed you might want to choose a simple handtied posy bouquet. This will ensure nothing is obscured by your flowers as you walk down the aisle. If the detail is below the waist, I'd suggest avoiding cascading bouquets for the same reason.
Proportions
Proportions are important too. If you're petite, a large cascading bouquet could be overwhelming. If you're tall, a small bouquet may become lost. Aim for balance and think about how your bouquet will look in photos as well as in-person.
Colour Combinations
Did you know ivory flowers can sometimes look yellow or cream coloured against an ivory dress, or worse, make the dress itself appear dirty?
Before you make any firm decisions about your bouquet, consider your overall colour scheme including bridesmaid dresses. Choose your palette carefully and always listen to your florist – they know which colours work well together. You'll find more advice here >>> 5 Questions to Help You Pick a Colour Palette
Seasonal Blooms
Whether you're getting married in spring, summer, autumn or winter, using seasonal flowers is the best way to truly capture the time of year. If something you love isn't available, there are always beautiful alternatives. Find more inspiration here >>> What to Do When Peonies Are Out of Season
Special Touches
There are lots of ways to make your wedding bouquet even more meaningful. You can incorporate a flower your mum or grandmother had in their bouquet. If you've lost a close friend or relative, you could attach a locket containing their photograph. You could even make like the Victorians and use floriography or the language of flowers to guide your choices!
You'll find more wedding bouquet inspiration in my gallery.
Emily x
P.S. Some weddings need more than one bouquet and grooms can carry flowers too. Get inspired! >>> Same Sex Wedding Bouquet and Buttonhole Ideas