Sarah and Ryan's wedding at Clevedon Hall was absolutely stunning! It's always a treat when a couple loves flowers as much as I do and wants to fill their wedding venue with as many blooms as possible. As you can see from these beautiful pictures by Interlace Photography, the results were spectacular.
The Ceremony
Sarah and Ryan's colour palette included all the tones I love. Blush, dusky pink, white, ivory and soft green. I suggested Amnesia, O'Hara, Avalanche, Quicksand, and Earl Grey roses as well as fragrant stocks, larkspur, delphiniums and more.
Clevedon Hall is always a joy to decorate and I was thrilled when Sarah wanted to transform the staircase. To create a beautiful backdrop for her grand entrance, I placed meadow style designs below the banister. These were interspersed with candles in cylindrical vases. Meadow arrangements also lined the aisle in The Great Hall. The archways were decorated with a beautiful floral installation and I placed small floral votives and candles on the ceremony table.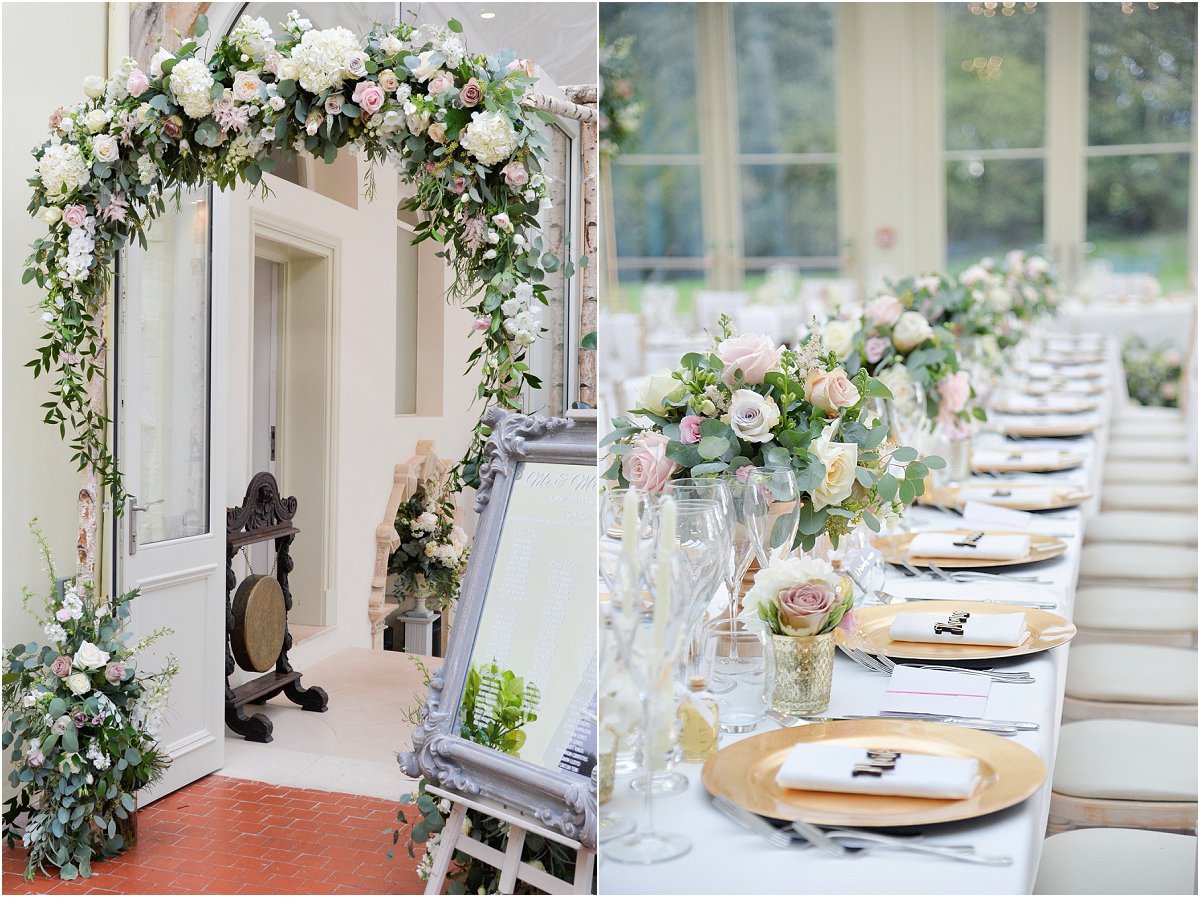 The Wedding Breakfast
A freestanding floral archway decorated the entrance into the Orangery. This was a really pretty addition and, as it's an area I haven't decorated before, it was lovely to create. The couple opted for a long banquet table in the middle of the room with six round guest tables and a long top table. I always love this mix and match table layout at Clevedon Hall as it creates lots of visual interest.
I filled the long banquet table with gold footed bowls, clusters of floral votives, dinner candles and glass candle holders. On the round guest tables, tall riser arrangements drew the eye upwards. The floral meadow arrangements from the ceremony were relocated in front of the top table and small floral votives and candles decorated the surface.
'You can honestly trust the wonderful Emily at Daisy Lane to make all those ideas of yours a reality… She is the best at what she does, and believe me, I hunted high and low! I remember walking into our wedding breakfast and becoming overwhelmed with emotions because the sheer visual impact of what Emily had created took my breath away. The perfumed scent of her beautiful blooms filled the air along with the sense of romance she had skilfully created. We're coming up to our first anniversary and people still talk about her beautiful floral arrangements to this day. When we look back over our wedding pictures in years to come, I'll have Emily to thank for helping create what was quite literally the wedding of our dreams!' – Sarah
It was such a beautiful wedding and a pleasure to work with a couple who truly love flowers. You'll find more floral inspiration for weddings at Clevedon Hall here.
Emily x
Photography – Interlace Photography